The American economy may be still bleak but the American Learning Executive's confidence seems to be at an all-time high.
The ASTD  conducts an annual survey (The Learning Executives Confidence Index)  to assess expectations in the learning functions, specifically:
impact on corporate performance
ability to meet learning needs
status as a key strategic component
availability of resources
Overall, the growing optimism sees that the forecast for the next six months positive.  That's a good sign.  Key findings in the report are demonstrated in this graph: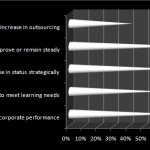 .
There is concern that the second lowest measure is an ability to meet the anticipated learning needs. Perhaps by using some external resources to make up the shortfall, the actual outcome could be a higher result. But then, that's a consultant talking!
Read the full report:   http://www.astd.org/content/research/LXCI.htm